Human connection is an essential part of our mission.  We need the community involved to continue the social impact work we care so much about.  And we need the community to help us identify areas where we can provide training and support to others.
While we intend to have one large fundraiser each spring, we plan to have more intimate family and community events regularly.  It gives us a chance to bring people together and to keep our supporters updated on the good we are doing.
Check back periodically to see which community events we are hosting next. In the meantime, enjoy the photos of the fun we've already had with our Equip community.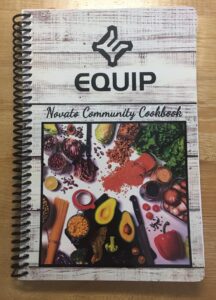 Need a last minute stocking stuffer? Put an Equip Novato Community Cookbook under the tree. Recipes were submitted by local teachers, first responders, coaches, athletes, chefs and friends. Free delivery in Novato, $5 extra if you want it gift wrapped for you. Order through the link below. Email katie@equipsports.org with any questions.