Today's student athlete endures long and often consecutive sports seasons. Many young athletes are overtrained and overstressed. Equip Training is designed to support individual training objectives and thoughtfully prepare athletes for a sport's physical and mental demands.
Equip offers whole team, small group and individual training. Our athletes build strength, power, increase speed and explore what it means to compete with a respectful, competitive mindset. We teach safe movement patterns designed to reduce incidence of injuries that, unfortunately, can occur during both training and competition.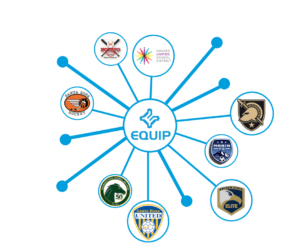 FEEL GOOD TRAINING...The revenue gained from these programs allows Equip to fund a variety of social impact programs.  When you train with Equip, you are putting valuable resource back into your local community and helping families in need. Check out some of the work we have done HERE. We are committed to providing education, access, equipment and training to all. Scholarships are available. Contact us if you think we can help!