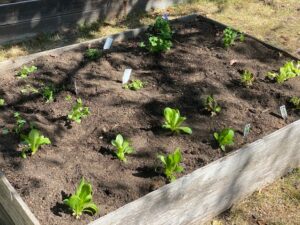 About a year ago, we had discussed doing some sort of community garden or gardening club to teach about water conservation, sustainability, gratitude for food and healthy eating. Seeing the food insecurity crisis in our country and community, we felt now was the time to open this opportunity for growth.  We were fortunate to connect with the good people at the Novato Fire District Administrative building and they had a fantastic backyard space which was underutilized. With the support of our former board member, Emma Mesenburg, and the incredible creativity and vision of Brittanie Williamson, we launched our first Junior Gardening Session in April. Our planter boxes are even made from an old fence at the NFD building which was going to be thrown away.  We are proud to do as much as possible to conserve resources. Special thanks to Chief Kyle Dague, NFD Administrator Colleen Walraven for allowing us use for the space.  Thank you to Luis at A& S Materials for the nonprofit discount on our soil. A special shout out to Master Gardener, Diane Gasson, for donating gloves and shovels and offering us resources to help make our garden a success.
San Marin High School Senior, Elizabeth Deruvo, founded the nonprofit "Operation Warm Winter" when she was just in elementary school. She collects warm jackets, coats, bedding and blankets and finds community members in need to deliver them to. Knowing many families have been out of work and displaced during the pandemic, Elizabeth reached out to Equip to partner on a clothing drive. We successfully collected and delivered two huge truck fulls of clothes and bedding to a local homeless shelter. A shout out to our incredible volunteers from the Do Good Be Kind Club at SMHS who spent the day helping us with collecting and sorting. Also thanks to Matt Cronin at Customized Hauling for donating a truckload of plastic tubs to aid in our organization. And finally, we can't forget to high five Sam White and Mikkel Clark for loaning their pick up trucks to assist with the delivery.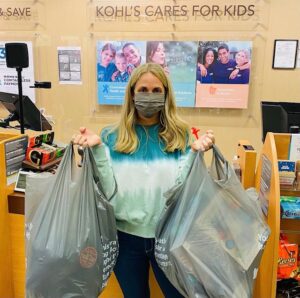 Equip was made aware of local school children in Novato who were in need of gifts during the holiday season. Equip Executive Director, Katie Stafford, was able to get all of the gifts on their lists.
Big thanks to Kohl's in San Rafael for offering us a friends and family discount and giving our nonprofit a tax exemption. It allowed us our donation to go even further than we imagined.